Bomby Times Fashion Week
The Rankat Grandeur | Ft. Hina Khan
Stunning as always, Hina Khan claimed –
"I feel very confident wearing our Dusty pastel Rankat lehenga for LEHR, my experience with AARI felt nothing less than Ethereal."
Brought back the era of alluring fashion with enhanced handwork to add a quotient of royalty and heritage culture to it✨
The Rosy Affair was one of the favourites as it took everyone's breath away with its beautiful colour tones including the flowers embedded in it with love✨
The lavender edit is just what you need for your big days as it's the perfect blend of glamour with the simplicity of pastels
The Princess Soirée is a statement in itself as it depicts the actual Indian princess with a modern touch to it.
The Mint ensemble colour is the perfect fit for any event you aim to stand out in a sleek way & be a Maharani🤍
 The Dual story is a glorious story of this magnificent sharara set that was intended for all and every of your event with a colour that intends to stand out by being mutedtatement in itself as it depicts the actual Indian princess with a modern touch to it.
 The light flowy colour that compliments the design of the lehenga on point is the highlight of this piece.
Raw silk blouse with work and a waist belt caress you to ensure not just a show of elegance but also a level of comfort like never before.
Gotta Patti weaves in a Rankhat manner with a Silk Skirt Anarkali Set.
Paired with an organza dupatta with heavy detailing.
This powder blue saree in organza definitely tops our list for its simplicity yet statement-making appeal.
Perfect texture for upcoming summer and sultry days
Rankhat woven lehenga with a GEN-Z look is the new trendsetter for upcoming wedding season. This outfit is hand crafted with Resham embroidery and sequence all over the outfit.
Gone are the times for wearing only heavy, cumbersome options when attending a wedding. Be it a low-key reception or a friend's at-home ceremony, you can definitely take a leaf out of this Icy Affair Saree.
Embellished self mirror all over saree with a combined embroiderv of resham and cut-dhana on a woven-organza fabric is paired with a stunning self-sequence blouse which adds up the glam to the attire.
When grace and culture shook hands, the saree was born.
Blooming touch lucknowi lehenga with a combination of mukesh work is the best fit for the Brightful Fera-day for our GEN-Z brides. Paired with a hand-embroidered silk blouse in cut-dhana and V deep-neck styling.
Stepping out in a Tissue organza saree with scallop border with the beauty work of Rankat, Resham, Tikki and Gotta Patti paired with Contrast Sequins Worked Blouse offering with elegance to spare.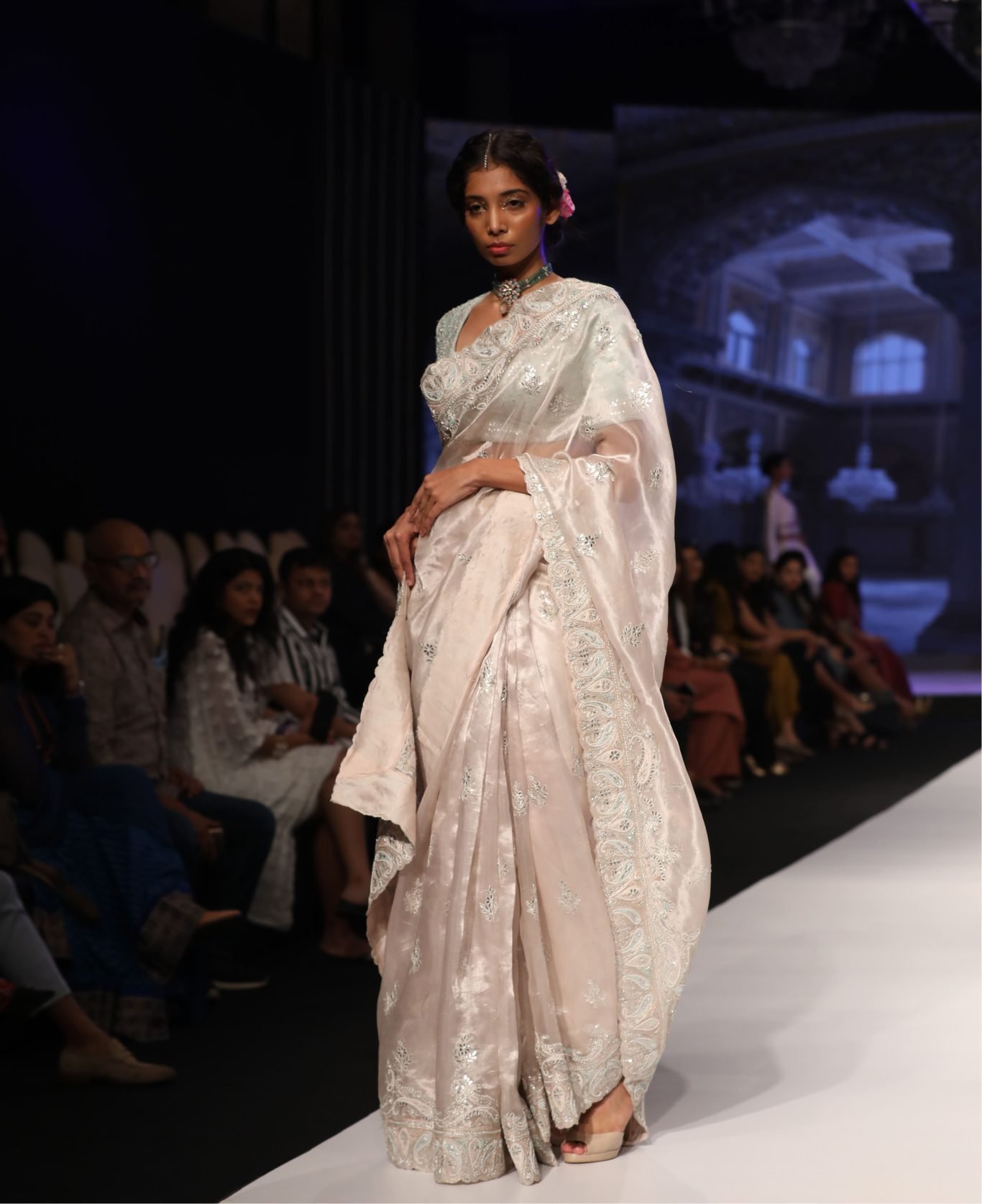 we present a shimmering and glimmering saree on a woven organza fabric with a heavy hand embroidery on the pallu! Making you look and feel like that diamond
Hand embroided, with a scallop border, this Tissue Organza piece fits into your wardrobe like a perfect piece of the puzzle.